TFT 13.23 Patch Notes - Remix Rumble, Cosmetics & Changes
The massive Teamfight Tactics Patch 13.23 introduces numerous buffs, nerfs, cosmetics, and other adjustments, bringing significant changes to Ranked gameplay for players.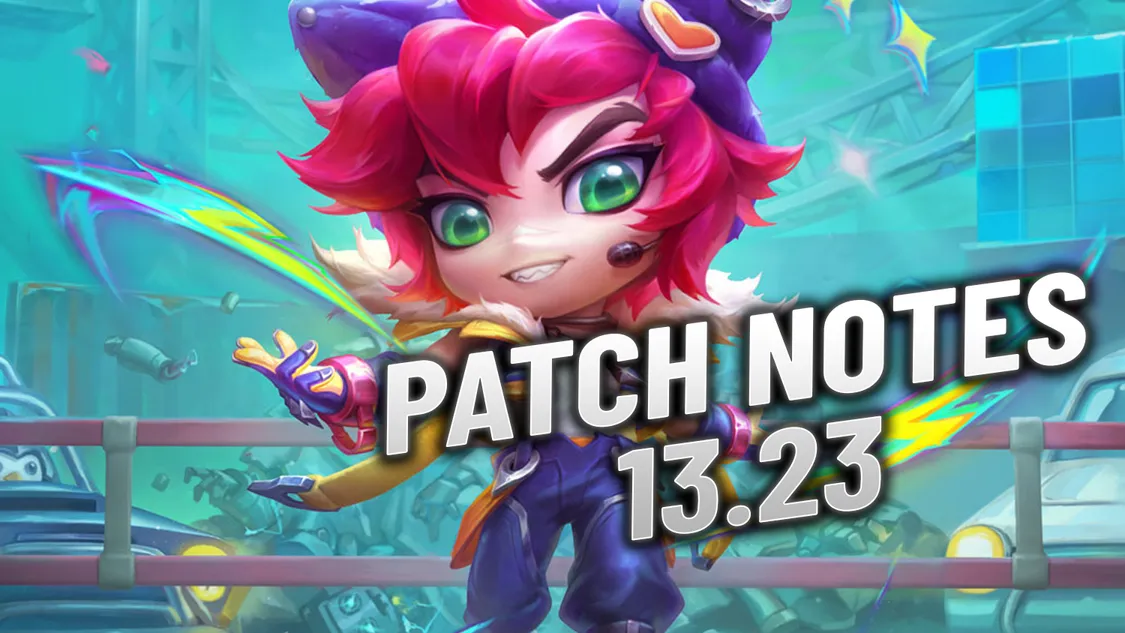 Teamfight Tactics returns with its most extensive patch notes of the year, featuring a substantial list of changes, tweaks, fixes, etc., primarily related to the Remix Rumble event. Numerous in-game adjustments promise a significantly different gameplay experience, especially in terms of leveling up. The good news? Climbing in Ranked is now easier! Check out the full release notes here. Welcome to today's comprehensive guide covering all the 13.23 Buffs, Nerfs, and Adjustment highlights.
TFT Patch 13.23 Remix Rumble
Welcome to Remix Rumble!

Remix Rumble brings all new units and traits, cosmetics, and mechanics, all mixed together by you! With our new set, you're the DJ, and the board is your masterpiece, and if you want to hear that exact line again alongside 24ish minutes of Remix Rumble (and more) delight, then click it here!

As for these notes, we're going to start with our usual cosmetics at the top, then we'll work our way through the changing and returning systems at the end.
Cosmetics
Remix Rumble will surprise fans with lots of new colorful and fun cosmetics, including:
K/DA in the Convergence
Chibis
| | |
| --- | --- |
| Riot Games | Riot Games |
| Riot Games | Riot Games |
My Little Legend Variants
| | |
| --- | --- |
| Riot Games | Riot Games |
| Riot Games | Riot Games |
Passes & Rewards
There are changes with Passes, which won't be divided into two acts. Each pass has a 1295 RP upgradeable version that grants players VIP access to Arenas, Tacticians, etc. Here's an overview of everything you can find in your game after the patch.
With three sets a year (hands up!), we no longer have a mid-set to reset our Pass. And now that sets are longer, we're dividing our Pass into two acts. Both Passes will offer different rewards, although they'll share a few core components such as Treasure Tokens and Star Shards. Each Pass has a 1295 RP upgradeable version that'll grant you VIP access to Arenas, Tacticians, and more! And if you want to see how far you can get on the free version of the Pass—no sweat, you can always upgrade at a later point to claim all your rewards. Speaking of rewards, let's check em' out!
Ranked Rewards and Changes
TL;DR: Because we're moving to 3 sets a year with no mid-sets, we need to make some updates to smooth out the climb. These updates include the release of Emerald tier, a reduction in penalties for LP decay below Challenger, and an increase in the banked game max to 14 to align with LoL PC. Masters+ players can now enjoy a full 2-week vacation!
Climbing will be slightly easier & faster to rank up to Platinum & below
Higher ranks may take longer, because we have a longer season (no mid-set reset), we're adjusting the climb to fit it's new length (but not exactly in a 1:1)
Emerald Tier is here
Inactivity penalty changed! Days banked 10 ⇒ 14 (aka Masters+ players can now enjoy a full 2-weeks off)
LP Decay adjusted! For Master, the new penalty for inactivity will be -50 LP (from -250)
LP Decay adjusted! For Grandmaster, the new penalty for inactivity will be -150 LP (from -250)
LP Decay for Challenger players remains the same, -250LP
When Remix Rumble goes live in your region, you'll be able to start climbing the ladder immediately
Depending on your rank in the previous season, you will start anywhere from Iron II to Bronze IV. This is true for both Double Up and Standard ranked.
You will get 5 provisional matches after the reset, meaning you will not lose any LP for sub-top 4 placements in your first 5 ranked games of the new stage. You'll also gain extra LP for finishing top 4, so best of luck!
Your Hyper rating will be reset to 500
Note that there's still a 24h period of delay between mobile and PC going live
System Changes
The biggest change here is the ability to buy 2-star Headliners, which be purchased from the shop with an additional plus one to one of their traits, and have a unique Headliner bonus.
Portals are back and players can vote for 1 of 3 of them at the beginning of the game.Their categories are Augments, Gold, Champions, Items, Combat, Unique, and Headliner.
Legends have been removed.
Leveling Changes. Level 10 is now the max level.
Level 5 to 6: 24 ⇒ 20xp
Level 6 to 7: 40 ⇒ 36xp
Level 7 to 8: 60 ⇒ 48xp
Level 8 to 9: 84 ⇒ 80xp
Level 9 to 10: 100 ⇒ 84xp
Total XP need to hit max: 228 ⇒ 288
Level 6: 25/40/30/5/0% ⇒ 30/40/25/5/0%
Level 7: 19/30/40/10/1% ⇒ 19/35/35/10/1%
Level 8: 16/20/35/25/4% ⇒ 18/25/36/18/3%
Level 9: 9/15/30/30/16% ⇒ 10/20/25/35/10%
Level 10: 5/10/20/40/25 (No change)
Player damage is adjusted, as mid-game losses will be punished more, while huge losses will be easier to overcome.
Base Stage Damage: 0/3/4/6/9/15 ⇒ 0/3/5/7/9/15
Mana Generating is nerfed with 2%, from 7% to 5%.
Excess Critical Strike Chance is now converted at 50% instead of the increased 80% from Horizonbound.
Large Adjustments
Riot Games redirect fans of the game to more information with links, regarding the changes. Check out their thread in the original post. This is an overview of their highlights:
Augment Cycling: Removed
All Natural I/II
Cybernetic Leech I/II/III
Early Education
Endurance Training
Enshrouding Stillness
Hustler
Lesser Jeweled Lotus
Unburdened I/II
Wandering Trainer
Augment Cycling: Returning
Best Friends I/II
Clear Mind
Cluttered Mind
Cybernetic Uplink I/II/III
Keepers I/II
Adjusted Augments:
AFK Gold: 22 ⇒ 18
Binary Airdrop will now use the champion's item recommendations to pick the airdrop item. This item can not be the same as an item that the champion has already equipped.
Birthday Present Gold Per Level Up: 1 ⇒ 0
Blood Money 1g per 3 HP Lost ⇒ 3g per 10 HP Lost
Caretakers Chosen Radiant Armory Given: Level 7 ⇒ Level 8
A Cut Above Deathblade kill gold drop proc Chance: 25% ⇒ 20%
Cutting Corners XP Reduction: 3 ⇒ 4
Cybernetic Bulk I/II/III HP: 225/300/500 ⇒ 222/333/555
Healing Orbs Heal: 250/500 ⇒ 225/450
Hedge Fund/+/++ Gold: 23/32/44 ⇒ 20/30/40
Late Game Specialist Gold: 44 ⇒ 30
Level Up! can now only be shown on 2-1
Level Up! Initial XP: 2 ⇒ 8
Level Up! Bonus XP on Purchase: 3 ⇒ 2
Lucky Gloves will now use the champion's item recommendations to pick the "ideal" items
Lucky Gloves: Both of the Thief's Gloves items will be picked from the pool of 8 recommended items
Lucky Gloves: The two items will never be the same item
New Recruit now grants a Champion Duplicator
Parting Gifts Tier: Gold ⇒ Silver
Parting Gifts Shield: 50% ⇒ 10%
Red Buff has been renamed to Blistering Strikes
Risky Moves Gold: 33 ⇒ 30
Tiniest Titan Gold Per Turn: 2 ⇒ 1
Two Healthy Health per 2-cost: 100 ⇒ 110
Three's a Crowd HP per 3-cost: 100 ⇒ 85
Young Wild & Free: 1 component ⇒ 3 gold
Core Items
Many of our double component items (2x B.F. Sword, Needlessly Large Rod, Negatron Cloak, etc.) have been dependent on providing large stats that other items amplify. We're giving these items a generic effect that will make them a bit stronger as a single standalone item. As a consequence, their big stats have been lowered.

Bramble Vest is becoming less of a hard counter to AD Crit and getting more general tankiness. It'll still be your go-to against AD heavy lobbies, but should be slightly less of a "paper beats rock" situation. Dragon's Claw is also getting a similar treatment with 10 less MR and bonus max Health.

As we continue to make traits and other effects that allow spells to critically strike, we don't want players feeling bad about having built Infinity Edge or Jeweled Gauntlet. So they'll grant some additional power if the player already has spell crit.
Bramble Vest Armor:

75 ⇒ 55

Bramble Vest Damage:

75/100/150/200 (by star level) ⇒ 100

Bramble Vest no longer reduces Critical Strike Damage
Blue Buff Ability Power:

25 ⇒ 20

Blue Buff no longer grants 10 Mana after Takedowns within 3 seconds of casting their ability.
Blue Buff: After a takedown, deal 15% increased damage for 8 seconds.
Deathblade Attack Damage:

66 ⇒ 55

Deathblade Grants 8% bonus damage
Dragon's Claw Magic Resist:

65 ⇒ 55

Guinsoo's Rageblade Attack Speed:

18% ⇒ 15%

Quicksilver Magic Resist:

30 ⇒ 20

Quicksilver: While CC Immune, gain 6% Attack Speed every 2 seconds (the AS lasts after immunity ends).

Night Harvester replaced with Steadfast Heart

Rabadon's Deathcap Ability Power:

70 ⇒ 60

Rapid Firecannon replaced with Red Buff

Red Buff no longer grants +1 Range
Red Buff Attacks and Abilities 1% Burn and 33% Wound targets for 5s.
Steadfast Heart: 200 HP, 20 Armor, 20% Crit Chance
Steadfast Heart: Take 8% reduced damage. While above 50% Health, take 15% reduced damage instead.
Warmog's Armor Health:

800 ⇒ 650